IHGMA.com – Siapa yang tak kenal dengan sosok Presiden AS Donald Trump? Di balik sosoknya yang kontroversial, rupanya hotel milik Donald Trump baru saja menyabet penghargaan bergengsi lho.
Dilansir Suara.com dari laman Daily Mail, Rabu (25/9/19), majalah traveling bernama Luxury Lifestyle Magazine baru saja menobatkan Trump International Hotel and Tower sebagai penginapan terbaik di dunia.
Trump Tower bahkan berhasil menggeser Valvatura Private Island di Fiji ke peringkat nomor 2. Kemudian ada Emirates Palace di Abu Dhabi yang menduduki peringkat ketiga.
Hotel mewah milik Donald Trump ini dikenal sebagai penginapan mewah yang menyuguhkan panorama Central Park.
Trump Tower di New York ini ternyata juga berhasil mengalahkan Sheraton Maldives Full Moon Resort & Spa dan Burj Al Arab yang super mewah.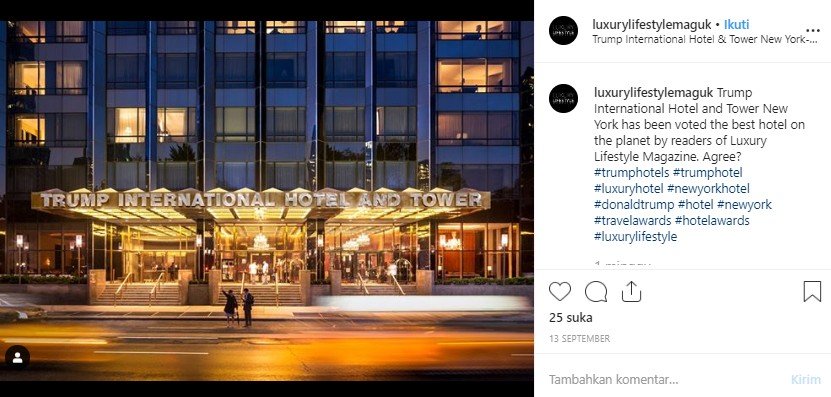 Tak dapat dipungkiri lagi, meski mendapat banyak kritik ternyata sosok Donald Trump ini selalu sukses dalam menjalankan bisnisnya di bidang properti.
Terbukti, 2 hotel milik Donald Trump berhasil masuk daftar 10 hotel terbaik versi Luxury Lifestyle Magazine.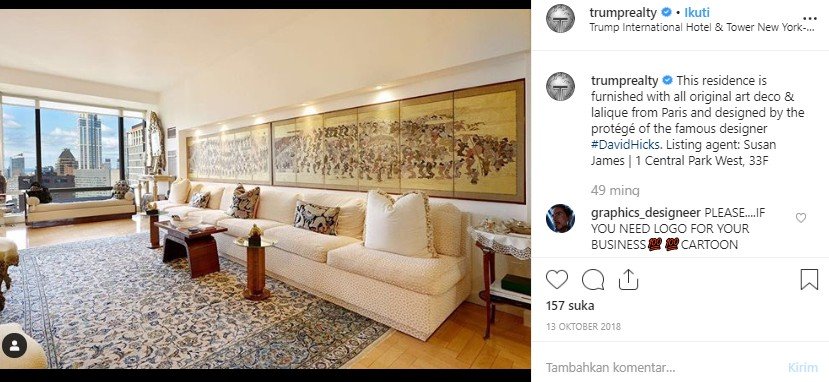 Berikut daftar lengkap dari 10 hotel terbaik sedunia versi Luxury Lifestyle Magazine yang berhasil dirangkum oleh Suara.com :
1. Trump International Hotel and Tower, New York
2. Vatuvara Private Island, Fiji
3. Emirates Palace, Abu Dhabi
4. Burj Al Arab, Dubai
5. Sheraton Maldives Full Moon Resort & Spa
6. Atlantis Paradise Island, Bahamas
7. The Langham, Sydney
8. The Dorchester, London
9. Trump Intenational Hotel, Washington DC
10. The Grand Hotel Les Trois Rois, Basel
Wah, menarik sekali ya? Anda tertarik untuk menginap di salah satu hotel milik Donald Trump ini?